The Everyday Headphones
With booming sound and superior noise cancellation, you can block out all distractions and stay focused on your mission.

100% Satisfaction Guaranteed
You're covered within 45 days for a full refund or return.
1-Year Warranty.
Product Highlight
Advanced Active Noise Cancellation technology helps you tune out the noise
Hear the world around you with Awareness mode.
IPX6 Water and Splash resistance.
3 Sound Profiles for an personalized listening experience
6 Built in microphones for crystal clear phone calls
Listen longer with 22 Hours of Playtime.
Active Noise Cancellation (ANC)
Nothing can get between you and goals. ANC helps block out unwanted noise while elevating sound quality. Bleeding edge chipsets immerse you in the sounds you choose, not what the world chooses for you.
You're not wearing them, you're rocking them.
The Everyday Headphones are created by the combined forces of tastemakers, artists and engineers. That means they're built for style and to be a statement of intent.
We can do this all day
22 hours of battery life on a single charge. 15 minutes charge for 2 hours of playback. Do the math. These headphones are tough.
INCLUDED: The Everyday Headphones • Charging cable • auxiliary cable • Manual
FAQs
What are The Everyday Headphones compatible with?
Our headphones are compatible with most Bluetooth enabled devices like mobile phones, tablets, and computers regardless of the brand. The Everyday Headphones also comes with a 3.5mm AUX cable so you can enjoy listening to any device with a compatible audio jack!
How easy is it to connect the Bluetooth?
With the headphones initially off, press the "Power" button for about 3 seconds to activate "pairing" mode. Enable the Bluetooth on your desired device and search for "The Everyday Headphones".
How does The Everyday Headphones' Active Noise Cancellation compare against standard noise-reducing headphones?
Most standard headphones use a kind of noise reduction called passive noise cancellation. This means that the material of the headphone itself acts as a shield that blocks out ambient sound. The Everyday Headphones not only use that kind of noise reduction, but Active Noise Cancellation technology that uses audio-neutralizing algorithms and the latest bluetooth chipsets to create sound waves that are the mirror image of the outside noise. This cancels out the ambient sound completely without jeopardizing the quality of the source audio. With The Everyday Headphones outside noise stays where it belongs— out.
Are The Everyday Headphones waterproof?
The Everyday Headphones headphones are poolside safe and workout ready. While you shouldn't go swimming with them, they are water-resistant with IPX4 grade protection against splashes and sweat.
How fast is shipping?
Because of the extra measures and health precautions taken by our shipping partners related to the COVID-19, our processing time has now increased to 7-10 business days. Please allow 4-5 business days for your order to be shipped and an additional 3-5 business days for your order to reach your address.
Customer Reviews
Write a Review
Ask a Question
10/20/2021
James

United States
Love it
The are so comfortable to wear and super light, now I got a Raycon trio: everyday headphones, work earbuds, and the everyday earbuds
10/20/2021
Maria

Sweden
These made me cry
I changed to these from a pair of headphones I used for about 6 years, perfect in every way but slowly breaking down due to age. So I figured I'd try these ones, with all the positive reviews, and after a few weeks of waiting, they arrived. After setting everything up and choosing a perfect song with tons of bass, with the bass sound setting on, I play the song, and when the drop hits, the sound is so amazing and such an upgrade from my previous ones that they made me tear up. I'm sitting there, staring into the void, listening to all these sounds and beats coming through, crying, because I haven't been able to experience music with such good quality in my entire life, just now realizing what I've been missing. So, yeah, get them.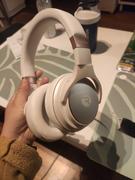 10/15/2021
Kim D.

Canada
Amazing!
Love everything about this!